Regulations updated: Long Lap Penalty headlines new rules for 2021
Monday, 21 December 2020 12:00 GMT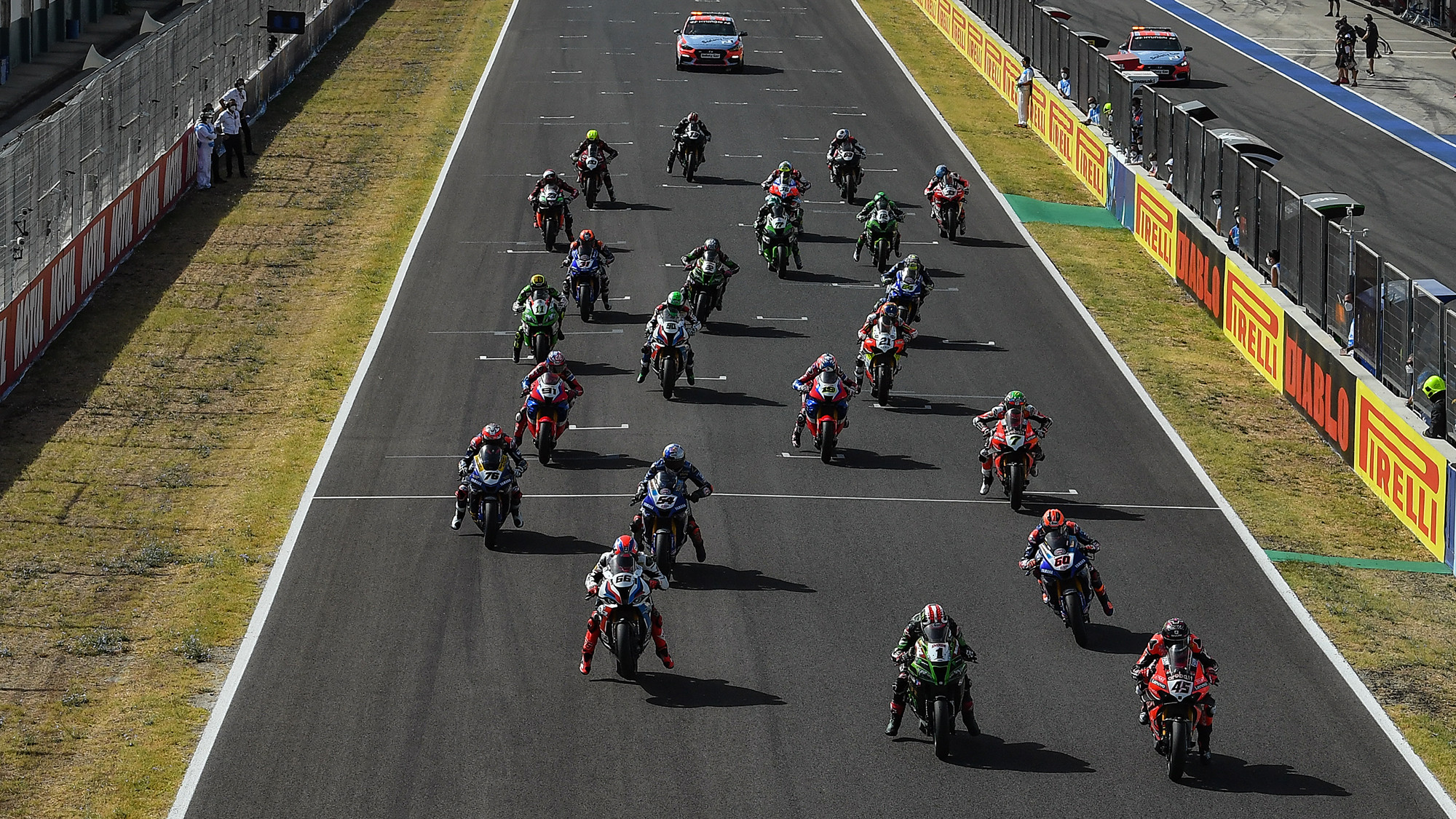 New sanctions among changes made to the regulations ahead of the 2021 WorldSBK season while WorldSSP300 will now only feature one group on track
The Superbike Commission, composed of Messrs. Gregorio LAVILLA (Dorna, Chairman), Franck VAYSSIÉ (FIM), Tomonori SATO (Honda), Andrea DOSOLI (Yamaha), Paolo MARCHETTI (Kawasaki), Marco ZAMBENEDETTI (Ducati), Marc BONGERS (BMW), Brian GILLEN (MV Agusta), in the presence of Paul DUPARC (FIM, Secretary of the meeting), Scott SMART (WSBK Technical Director), Dominique HÉBRARD (FIM CTI Sporting Manager) made the following decisions in 2 meetings held by electronic ways on 14 and 16 December 2020:
Sporting Regulations
Effective Season 2021
Practice and testing Restrictions
The practice and testing restriction were reviewed mainly to clarify with which type of road motorcycles for training purposes is permitted. The goal is to avoid trainings and track familiarisation with bikes prepared for racing. Teams and riders have been limited to ten days of private running, not including Official or Supported tests.
Timetable of the season 2021
The WorldSSP300 will no longer compete in 2 groups for qualifications but in one group only.
Long Lap Penalty(ies)
The Long Lap penalty(ies) having proved its efficiency in GP will be also applied in the range of sanctions for the FIM WSBK. However, the Long Lap Penalty may not be applied at all circuits due to their configuration. Therefore, it will be a duty of the FIM Inspector/Safety Officer to decide on which circuit this LLP will be applied.
Yellow Flags
Riders who see a yellow flag displayed are required to slow down to protect fallen riders and attending marshals. Riders passing a yellow flag zone in all practice sessions will have the time for that lap cancelled. The message given to riders is that they cannot improve their time under a yellow flag, so there is no reason NOT to slow down.
Introduction of led panels and consequences to the double presentation of flags
At the last meeting of the FIM Circuit Racing Commission, the compulsory use of led panels was announced in 2023 in SBK and EWC (and 22 for GP). It appeared that it will be impossible to combine the information currently given by the 2 flags in the event of a change in grip, for reasons of visibility of the LED panels. It was then decided not to display the together flags signals "Drops of rains" and "Change of adhesion".
Security Deposits for Protests and Appeals
The scope and definition of protests and appeals have been clarified. Any person or body making a protest or appeal will always have their security deposit returned in the event that the protest or appeal is successful. It will no longer possible for a rider or team to present a letter of guarantee in lieu of security deposit. (Note: It is also current practice that fines and security deposits that are forfeited go to a fund administered by the FIM for eventual use for good causes).
Helicopter presence at circuits
Except when there is a hospital which accepted by the FIM for the management of significant trauma with an agreement in place to treat injured riders 20 minutes or less by road under emergency driving conditions from the circuit, a helicopter may not be required providing adequate vehicles type B are available
An electronic meeting will take place soon for clarifying the Technical Rules. The relevant decisions will be also press released.
You can view the full regulations for WorldSBK, WorldSSP and WorldSSP300 here.