Top 10 boxset: the biggest countdowns in one place!
Thursday, 2 July 2020 09:40 GMT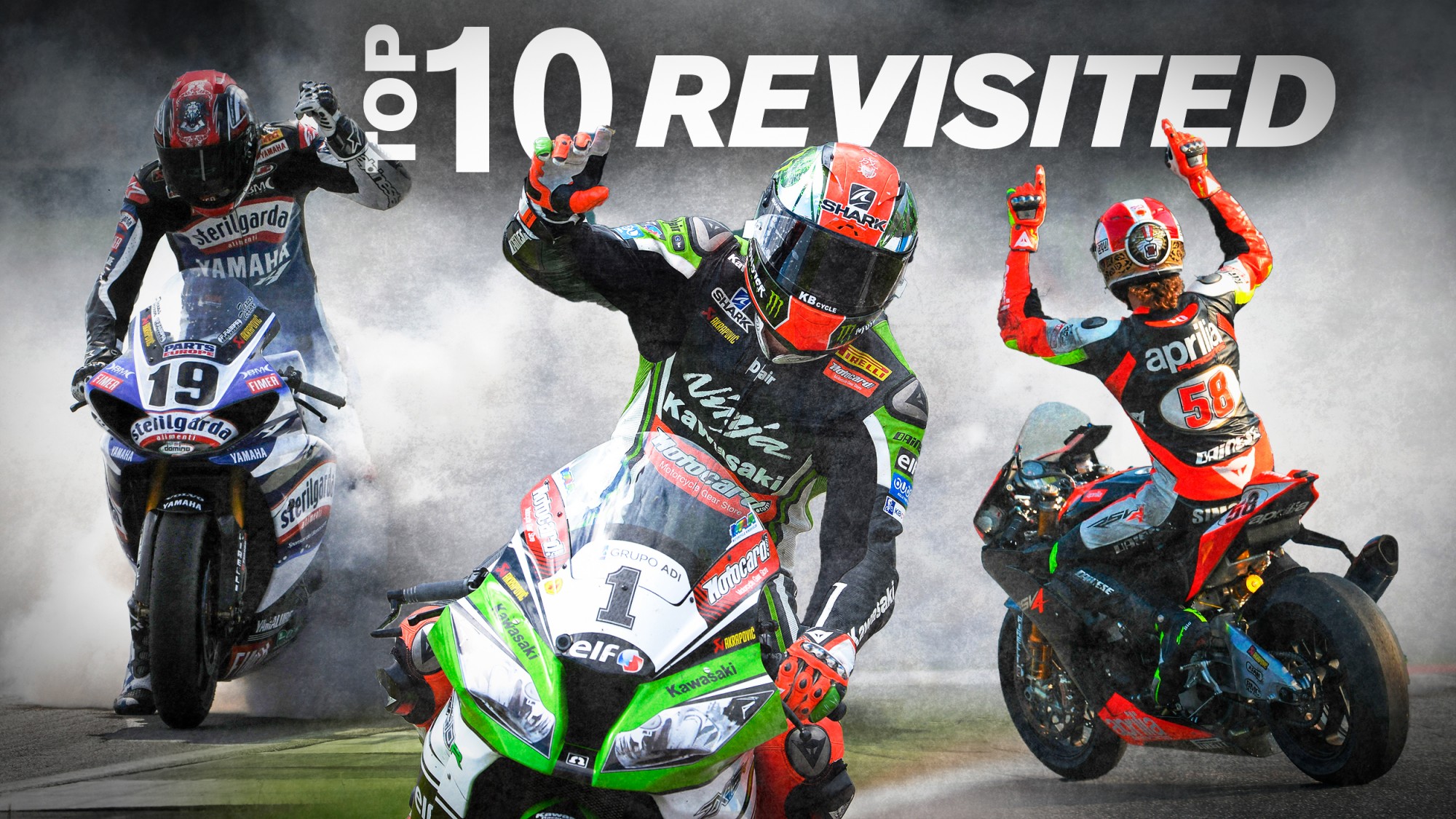 After all of the looking back on some of the best themes in WorldSBK, rekindle the memories of over 50 iconic races!
During the time away from racing, the MOTUL FIM Superbike World Championship action hasn't necessarily stopped. Teams have tested, riders have got back up to speed but we have also been reliving some of WorldSBK's greatest moments with 'Top 10…' lists. Now, you have them all in one place and in case you forgot which thrillers are making these lists, we've given you some teasers!
In this list, it was time to roll back the years and look at some of the greatest recoveries inside the paddock. Just a taster of which ones are there include Marco Melandri's first win, Neil Hodgson's revival and the thrilling final Showdown at Imola of 2002, between Colin Edwards and Troy Bayliss.
Wars of words and beyond, a range of WorldSBK rivalries made the list for this one. Carl Fogarty vs John Kocinski and Pierfrancesco Chili were seismic tremors in the 1990s. In the modern era, some of the best Chaz Davies vs Jonathan Rea moments, as well as Rea and former teammate Tom Sykes.
Lasting memories were made from some of these riders; one-time winners in WorldSBK often give drama and excitement, so there was lots of competition to make the cut for this one. Alex Barros' win at Imola in 2006 stands out, whilst Jordi Torres' victory from Losail 2015 was simply sublime!
Top 10… Biggest battles on past battlegrounds!
Not only was it big WorldSBK duels but they had to take place on tracks no longer visited. Think it is hard to find a list? Not at all; classics such as Monza's Race 1 from 2001 are coupled with Buriram's Race 2 of 2016; a mix of new and old, these battles and tracks showcase the essence of racing gold!
It really was wet, wet, wet for some of the most incredible WorldSBK races and love certainly wasn't all around for everyone. Some frenetic races making the list include Moscow's Race 1 from 2013, the A1 Ring's 1999 Race 2 and of course, Chris Walker's stunning only win from Race 1 at Assen, 2006.
There's no better feeling than winning at home in WorldSBK and this top ten features great races. From Japan's success at Sugo in 2000 with Hitoyasu Izutsu to Colin Edwards' win at Laguna Seca in 2002 and James Toseland and Brands Hatch in 2007, enjoy these and make yourself at home!
Top 10… WorldSBK winners and MotoGP™ masters…
To win in WorldSBK is hard enough but to do that and as well in MotoGP™, that takes some doing! But a few have achieved this, such as Ben Spies, Nicky Hayden, Marco Melandri, Troy Bayliss and Max Biaggi – but find out what other riders – that you may not realise won in both – made our list.
Top 10… Wildcard stories to behold
Let's admit it: some of the greatest races in World Superbike have come from amazing achievements by one-off wildcard riders. Whether that's Neil Hodgson and Chris Walker at Donington Park in 2000 or Marco Simoncelli at Imola in 2009, this list gives powerful emotions and some hair-raising battles.
We never want to say goodbye but there's always one final win if you've won before. Making this farewell list is Troy Corser at Phillip Island in 2006, Aaron Slight's victory of Carl Fogarty on the last lap in Austria 1998 and Troy Bayliss' last hurrah at Portimao in 2008 – but who was number one?
More classics await in 2020 and you can enjoy the full season in comprehensive fashion with the WorldSBK VideoPass!