This is who I am, and this is what I think: Xavi Fores
Friday, 5 October 2018 07:09 GMT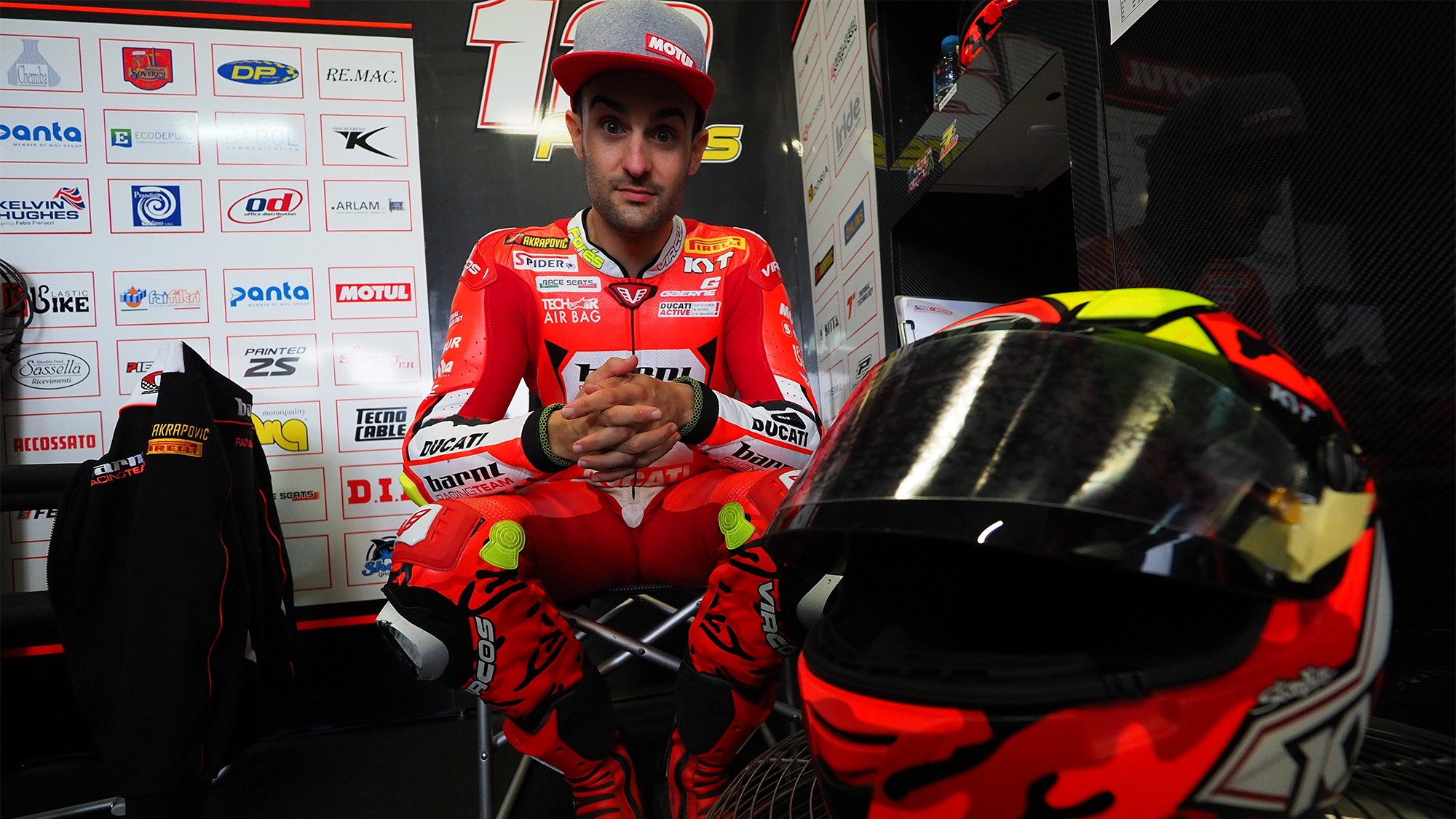 The Valencian rider talks us through his personal and professional situation
It's Magny-Cours weekend. We sit down with Xavi Fores (Barni Racing Team) on Sunday morning, one day after making it onto the French rostrum and moments before jumping back onto his Panigale R for Race Two of the weekend. In the motorhome of Barni Racing – Fores' team for the past three seasons – his parents are watching the end of the STK1000 race. He is thrilled to have them there: Fores is a family guy, something which is made even clearer during his conversation with WorldSBK.com.
A podium like this does balance out quite a few unpleasant moments, definitely. It has been quite a positive season, and although there were some rough patches halfway through I would rate our season as very good. This third position in France shows the work we've done throughout the year.
Sometimes I surprise myself. Like, yesterday [Saturday 29th] I didn't expect to have this pace. I knew that I could be strong, but I didn't expect to be riding in 1'37s for over half the race. I got excited again in my hotel room watching the race!
I turned 33 in Portugal but couldn't gift myself a podium. I did 'treat' myself to a couple of stitches in my elbow, which are still there [Fores fell at the start of Race One at Portimao].
To crash at the first turn of a race is… Not ideal. You throw away all the hard work from the weekend. None of us deserved that fall. I left that race very frustrated, because I had leading pace and I wasn't able to prove it. I was really motivated before coming here [Magny-Cours], and this podium kind of confirms the good work we did at Portimao.
At Portimao I went in too strong and took Laverty down with me. That was a bad mistake, something that cannot happen because at the end of the day we're risking our lives out there. We must be aware that there need to be limits. I think nowadays most of us realise that and respect that. It's not like before, when riders went out trying to prove that they were braver than the rest.
Yes, I know that Schwantz used to say: "I wait until I see God; then I brake". For me, it's when I see the light [laughs].
I've spent more years of my life racing than not racing. I started quite young, I was five years old when I was given my first bike from my father and an uncle of mine who would later die in a motorbike accident. He had a factory, they made leathers for riders and back in the day they were even represented in the World Championship, with Aspar and other riders. They bought me my first bike. It all starts as hobby, but then you go in a little deeper, you do more things… And here we are.
To be a rider you need to be born a rider, it has to come naturally. You can't force it. I've always said that everyone has a gift for something. You've got to find your own talent, that's part of the game.
A lot of people on the outside think that if you're a motorbike racer that's it, your life's settled the moment you step off the bike, and that's not true. That only applies to a very small group of people in the world of motor sports. At the same time, we are truly lucky because we are doing what we love.
If you're a public figure, on any scale, you're open to criticism, and you need to be ready for it. Some people think that we have this and that, that we're superstars – it's a cliché, but also quite wrong.
I'm very much a home-loving type. Of course, I enjoy going out with friends and with people I like, but when I'm here at the races I'd rather just be with my parents, my wife, and when we're competing in Spain with my sister and her children too. I like to stay relaxed, calm and with my people. And yes, I would like to start a family in the not-too-distant future – I love kids, I like playing with them and looking after them.
I feel strong mentally, because I've never stopped believing in myself nor in the work we've done all year within the team. In our worst races, we've sat down and tried to figure out where our issues began. I've given 110% in every race, both the bad ones and the good ones. Subconsciously, that makes you feel stronger. That's the key to our podiums. We're the only privateers to have managed four podium finishes this year.
There's upsides and downsides to becoming a rider. There are so many emotions involved, the rush of adrenaline… You can't fully appreciate the barrage of sensations that you experience on that bike from an onboard camera, it's something that only a rider can understand and that's very exciting.
But you also lose out on things, with family and friends. There's less time for both because you're travelling all year, but it's something that we internalise from the start because we like what we're doing. And it's also something positive, we're lucky to be able to travel the world, doing what we like the most. So, I hope it continues for many years to come…
I've got more scars than tattoos. I've got one tattoo on my arm and another on my left calf, I had that one done when my friend Dani Rivas passed away. But my scar tally keeps growing, I've 'earned' quite a few since joining Barni. I've got these two stitches on my elbow, I opened a hole in my hand, another on my knee, I pierced a finger in Thailand… Ah, and the burn marks on my triceps, when my bike burst into flames at MotorLand Aragon. They're keepsakes now – someday I'll tell my future kids the tale of each one.
Relive the highlights from the Spanish rider's season thanks to WorldSBK VideoPass.